by rhiannon —
last modified

07/08/2012 04:50 PM
Shout out for Youth Club Volunteers
by rhiannon —
last modified

07/08/2012 04:50 PM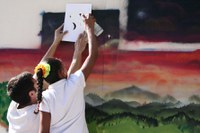 Trinity Youth Club has been running since September 2010. We are now looking for vibrant enthusiastic volunteers* to work during term time on Tuesdays between 3pm-6pm starting Tuesday 11th September.
Your role will be engaging with children between the ages of 7-12 years through creative play, such as arts and crafts and playing a variety of games which can include some sports activities. You will also help out setting up for the weekly session and assisting with workshops.
We are looking for someone that is inspiring and can bring new ideas to the group. We are particularly interested in hearing from male applicants to provide positive male role models for the children.
Click here for more info on the role
*Please note - volunteers for the Youth Club will be required to provide two referees and undergo an enhanced CRB check.