by sarahb —
last modified

29/05/2019 10:24 AM
Benjamin Zephaniah Q&A
by sarahb —
last modified

29/05/2019 10:24 AM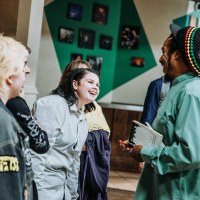 Benjamin Zephaniah meets young people from Making Tracks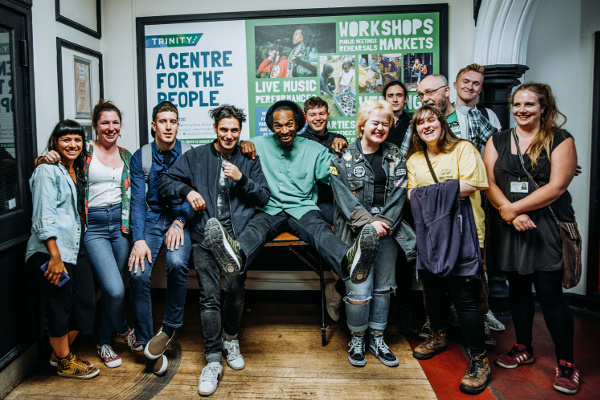 Benjamin Zephaniah poses with young people from Making Tracks, Dave Thomas, Trinity Youth Activities Manager, Roseanna Dias, Assistant Producer and Emma Harvey, Trinity CEO. Photo @Khali Ackford
Benjamin Zephaniah: Poet, writer, musician, actor, Rastafarian and proud vegan, anarchist and political campaigner / activist kindly agreed to take part in an exclusive industry insight session designed to better integrate Trinity's live event programme with our in house music training provision.
Funded by Youth Music and partner funders, 'Making Tracks', is a dynamic city wide partnership between Trinity, Basement studios and Aspiration, Creation and Elevation (ACE) providing 121, small group music sessions, workshops and performance opportunities to young people in challenging circumstances. The focus of this provision is to build confidence, develop and support talented young musicians providing them with realistic progression routes leading them to reengage back in to education, work, tapprenticeship or meaningful activity.
"If you want to be a musician, artist or poet you need to act and think like a musician, artist or poet. Just do it." Benjamin Zephaniah
Benjamin was in good spirits and smiling broadly. After a brief informal meet and greet / book signing session with 12 students he hopped up on to Trinity's main stage to join his band, The Revolutionary Minds, finishing off the soundcheck in preparation for the evenings performance. Shortly afterwards Benjamin rejoined our students and spent well over an hour of his own free time to answer questions providing the young people we work with a rare, informative and truly inspirational insight into his life and professional working methods.
From reminiscing about his early years, as a small child disinterested in the usual kids stuff like toys and action figures he would spend hours upon hours amusing himself quietly in the corner, 'playing with words', as he describes it. In fact, he became so obsessed by words and the different the ways in which they can be moulded, shaped and misinterpreted depending on context, that his worried mum took him to a psychiatrist at the tender age of 7!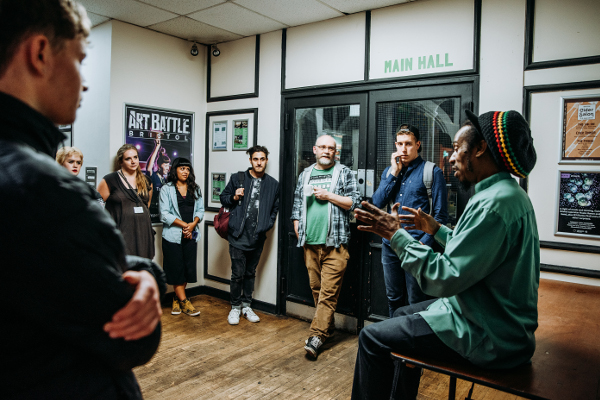 Benjamin spent over 1 hour chatting with young people, answering questions and sharing his story. Photo @Khali Ackford
It wasn't too long after that his burgeoning rebel spirit coupled with severe dyslexia got him into all kinds of scrapes, which, unfortunately led to him being expelled from school and placed into a pupil referral unit, in which, at that time, the teachers would regularly punish the children and shamefully tell him he would never achieve anything in life. As he got older, his behaviour worsened and he ended up in a Borstal prison for young offenders. It was here that he had a lot of time to think about his life and began to change his ways. Determined to prove the prison officers who taunted him by saying he would be back behind bars within 3 months wrong, he set about changing course in order to focus more seriously on his poetry and performance.
"I could have hung out with these cats all night. I love them. I hope they all stay creative. We need to hear them." 

Benjamin Zephaniah
He regaled us with often hilarious anecdotes and hair raising tales of performing at Northern miners strike benefit gigs in the early 80s. He talked about being confronted by shocking levels of racism, ignorance and bigotry through to receiving praise from Nelson Mandela to nostalgic recollection of an old much admired tutor who taught him how to build and deconstruct a car engine, for which he is still grateful.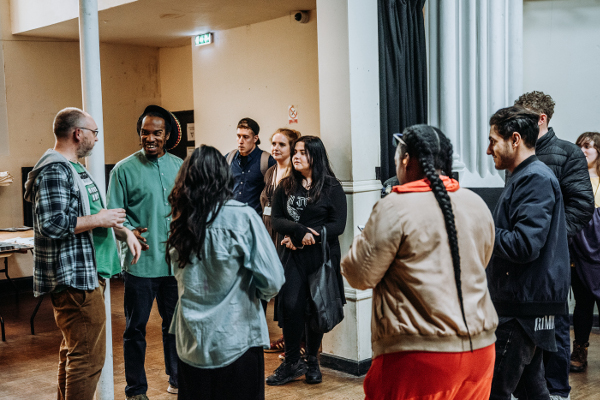 Benjamin chats with Dave Thomas, Trinity Youth Activities Manager and young people from Making Tracks. Photo @Khali Ackford
Benjamin's main piece of advice to our music students wanting to progress within the music industry was to, 'think for yourselves', he could not stress enough how important this is. He also said that despite sounding cliched, it is vital to 'believe in yourself. If you want to be a musician, artist or poet you need to act and think like a musician, artist or poet. Just do it.', he enthused. He also went on to talk in great detail about the importance of, 'understanding how the industry works', surrounding yourself with the right people (managers / band members, etc) his approach and methods to songwriting, ways to counter creative block and last but by no means least, the ritual of ensuring his teeth are thoroughly cleaned before each and every live / public performance!
This was a truly exceptional and inspirational industry insight and on behalf of all at Trinity, Making Tracks and our partners ACE and Basement, we would like to once again thank Benjamin, his management, band, live engineer and especially his booking agent for helping to make this incredible opportunity a reality.
Written by Dave Thomas, Trinity Youth Activities Manager
Making Tracks is supported by Youth Music and using public funding by the National Lottery through Arts Council England.