by emma —
last modified

19/08/2019 02:43 PM
Making Tracks at Harbour Festival
by emma —
last modified

19/08/2019 02:43 PM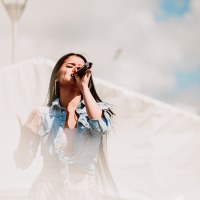 Chel from ACE performing at Harbour Festival, 2019 - © Alastair Brookes - KoLAB Studios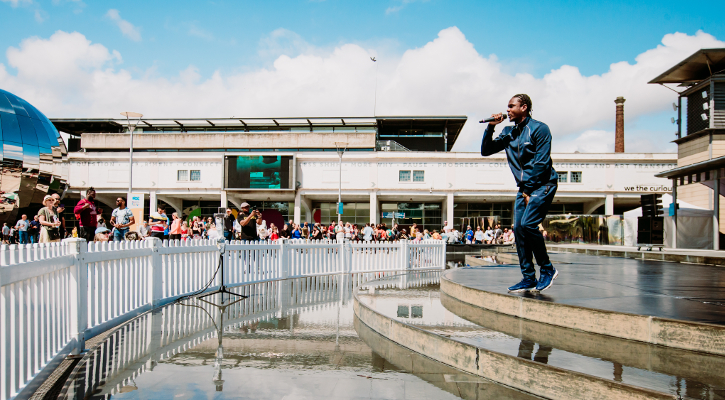 Image @ Alastair Brooks / KoLAB Studios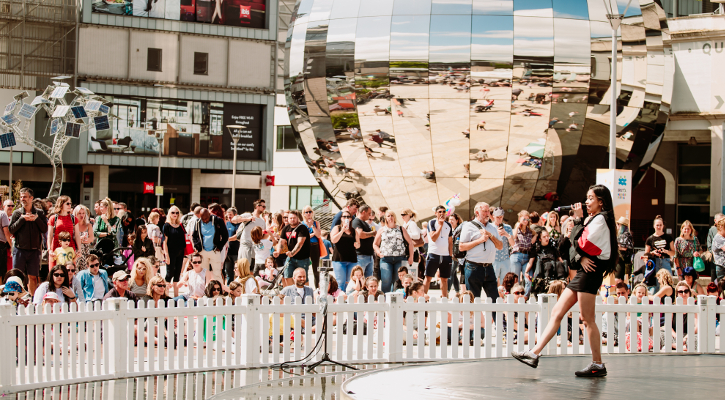 Image @ Alastair Brooks / KoLAB Studios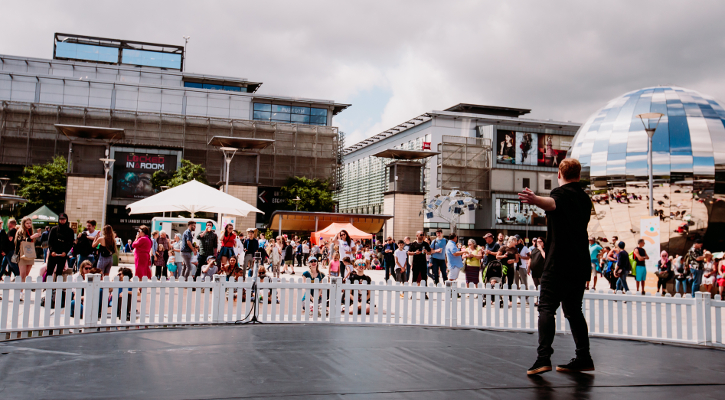 Image @ Alastair Brooks / KoLAB Studios
Young performers from the Making Tracks project took part in a showcase slot at this year's Bristol Harbour Festival.
A total of six artists performed in just over an hour as part of the Trinity curated, 'Bristol Dances' stage located in Millennium Square. These included: Delocx (ACE) Miss Tee (Trinity) Kevin McKechnie (Trinity) Sam Neal (Trinity) Xyzelle (ACE) Chel (ACE)
This year's youth music performances proved to be a resounding success and we are all really proud of all our young people who took part. Each artist brought their own unique style and flair to the occasion.
Delocx performed 3 original streetwise hip-hop tracks engaging the crowd with confident stage banter and swagger all topped off with thought provoking lyrical content.
Miss Tee performed 2 original tracks produced at Trinity. Although she was admittedly / visibly nervous Miss Tee managed to keep her composure and the crowd were right behind her all the way.
Kev McKechnie came out and proved his soulful pop voice could win over any crowd as he belted out 2 classics from Lewis Capaldi (Hold Me While You Wait) and John Legend (All of Me).
Trinity Youth Ambassador, Sam Neal wowed the ever growing crowd with a total of 4 songs. 3 original tracks and 1 cover, 'Wonderwall' by Oasis. His strummed acoustic singer songwriter stylings certainly managed to get toes tapping and heads nodding.
Xyzelle performed 2 original tracks which proved to be a hit with the audience as the bass drops got heavy and the sass levels rocketed.
Chel finished off a triumphant hour of music by performing 2 uptempo original tracks that had the crowd moving to the perfect blend of summer beats and pop hooks.
Well done to you all - you smashed it!
Special thanks to Roseanna, Liz and Alexa at Trinity and all the crew for providing our young people the opportunity to perform on the 'Bristol Dances' and ensuring the smooth running of an absolutely fantastic event!
Making Tracks is a Youth Music funded collaborative partnership project between Trinity, ACE and Basement.